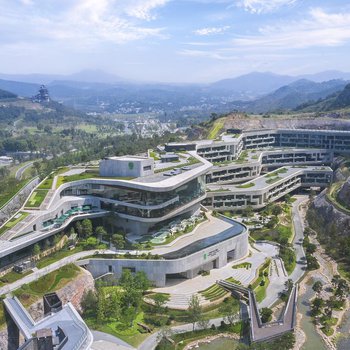 Banyan Tree Nanjing Garden Expo is Jiangsu province's first Banyan Tree resort located at Yunchi Dream Valley, Jiangsu Garden Expo Park. What used to be an abandoned granite quarry in the lush mountains of Tangshan is now turned into a secret land of mine valley nestled behind the gentle mist of cascading waterfalls. A mystic destination for souls seeking rejuvenation and relaxation, the Resort is a place to rediscover the romance of travel and wellness benefits of geothermal springs.
Guest Room
All rooms come with a scenery balcony where guests may bathe in a private hot spring tub enjoying a breathtaking vista of cliffs. The ninth floor is a special setting for our signature wellbeing treatments that provides guests with a nourishing and invigorating experience.
Hot Spring
The resort has 11 indoor and outdoor hot spring pools in capacious spaces. The pool water flows from Tangshan geothermal wellsprings, one of the top four hot springs in China. Tangshan wellsprings are the only one in China that have gained water quality certification from both Europe and Japan. Take a dip in the medicinal hot water and relax in the embrace of the natural wonders of Tangshan mine valley.
Banyan Tree Spa
A sanctuary for the senses hidden in an old mine valley, the Banyan Tree Spa has six therapy rooms. Harnessing the best of locally sourced ingredients, the wellbeing journey offers guests an authentic flavor of Nanjing. Guests will have a unique chance to experience Nanjing Yuhua Tea special therapy. Among all the spa offerings, the Tropical Rainmist merges signature spa treatments with state-of-the-art hydrothermal facilities based on a health philosophy that values wellness and vitality equally.
Rangers' Club
Rangers' Club is a place for children to immerse in all sorts of fun and DIY activities. There is also a library with a good collection of educational and picture books.